August 14th, 2020
The True Value of Accurate Customer Data
When it comes to knowing people in meaningful ways, numbers count.
Today, in cities and rural communities all over America, half a million dedicated census takers are knocking on people's doors to complete the 2020 U.S. Census. Their objective is to collect data from millions of Americans who have failed to respond online or by mail. The stakes are high: The data they collect will be used to apportion seats in the U.S. House of Representatives for the next 10 years, but also to allocate more than a $1 trillion in yearly federal and community spending—vital funds for schools, hospitals, roads, and public work projects around the country. Pandemic or not, the Census is marching on. Accurate data is crucial.
If you're a marketer in today's multi-channel world, you know already how important it is for your data to be accurate. Your direct mail flyers are returned to you; Your emails and phone calls go unanswered; Your digital ads go to the wrong audience; Sometimes you're not even sure if it's not a bot on the receiving end. You're wasting money at a time you can ill afford to, and your campaigns fail to reach their full potential.
In the U.S., 35 million people relocate each year. The same number (but not necessarily the same people) change their phone numbers. More than two million even change their legal names. If you're a marketer and you have customer data in a CRM or CDP system today, 60% of that data will be obsolete within two years if you don't stay on top of it. You're fighting an uphill battle, data is falling down the slope in an avalanche, and you have a butterfly net to catch what you can.
Your first priority is to get the right tools for the job. Drop the net - you're not a lepidopterist. Traditional CRM and CDP systems use proprietary IDs that can't help you perform identity resolution or fill in the gaps in your data. If you use the wrong tools, you're likely to reach the wrong audience, focus on the wrong consumer behavior, and allocate the wrong budget to your campaigns.
To keep up with today's marketing realities, you need to upgrade your martech stack to a unified platform that takes full advantage of the latest developments in data management, campaign activation, and advanced analytics. With the death of the third-party cookie and the acceleration of omnichannel strategies due to the Covid-19 pandemic, the whole marketing ecosystem is getting a much-needed revamp, with identity at its core, and you need to get in on it.
What benefits can you expect from a unified identity-based solution?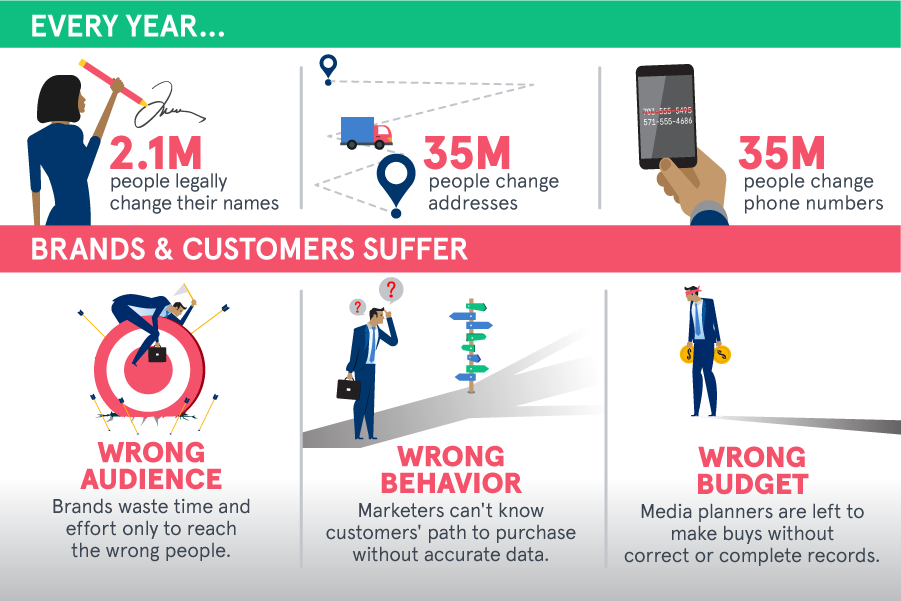 Understand your customers
Understanding what drives your customers—and how best to nurture the relationship you have with them—is at the heart of marketing. Part of it is art, of course. Great marketers have an innate sense of the place that their brand has in the lives of their customers. But even intuitive marketers use market data to quantify what works (and what doesn't) for every campaign they run, and they use those insights to pave the road ahead.
You most certainly do segmentation with your customer data. If the data going into the models is faulty or incomplete, how can you trust that the segments produced by those models reflect reality? What chances do you have of truly optimizing the effectiveness of your ad campaigns?
The catalog retailer we mentioned earlier used its new identity-based data to discover a new segment of high-value customers. That segment was previously invisible to them because they didn't have the unified data necessary to support the analysis. They designed a new campaign to target consumers in that segment, and those consumers converted at a rate that outperformed the company's best benchmark to date by 32%.
A wireless provider we worked with was able to enter the phone number of potential new customers at the point of sale, match it against back-end data sources to find out what might convince them to switch, and call up relevant promotional material to close the deal—all in real time. Their fully integrated identity-based solution allowed them to sign up 300,000 new customers.
Reach the right audience
It goes without saying that you won't close as many sales if you're not marketing to the right customers or prospects. If the contact information in your systems is wrong, you're losing twice: first by missing out on the sale opportunity; and second by wasting money (time, labor, and yes, stamps) on a dead-end campaign.
A client of ours, a leading insurance company, conducted a comprehensive health assessment of its customer data recently and used a persistent identity solution to clean up, consolidate, and enrich that data. Insurance firms generally have very good street address data for their customers, because the coverage they provide is tied directly to that address. Their prospects need to provide a valid address too to get a proper quote, so that data is of good quality as well.
Still, they were able to correct and enhance their existing data to reach 2.4 million more people with their direct mail campaigns for the rest of the year. They also cut down their mailing expenses by nearly $1 million. Matches for valid phone numbers among prospects more than doubled (from 39% to 91% of all records), and nearly quadrupled for email addresses (from 18% of all prospects to 68%).
The right identity solution can help you make the most of your existing files, as the above example shows, but also expand your reach beyond your previous market boundaries. A top catalog retailer used identity to recognize 50% of its anonymous website visitors—a boon to its burgeoning omnichannel strategy. Identity also helped a media production company increase its targetable reach by 200%—not a small feat in a business that doesn't generally connect with its fan base directly.
Ultimately, your audience is what you make of it, and you can't make anything of it without the right data.
Grow your business
You want to understand what drives consumers and reach more of them, but not at any price. At the end of the day, the success of your marketing campaigns is measured by the return you get on your ad spend (ROAS).
The wireless provider in the example above gained 300,000 in-store customers. These were prepaid customers, so there's no guarantee that they'll stick around in the long run. Competition and turnover rates are high in the prepaid industry, and the company will need to work hard to minimize churn. But on an annualized basis, a prepaid customer spends about $500 in wireless services. Those 300,000 new customers brought in $150 million for the company. Even with a 10% annual turnover rate (which is typical in that space), that's very healthy growth in revenues against very minimal operating expenses to make it all happen.
The insurance firm, for its part, translated its new reach into 5,000 new binding contracts, at an average value of $1,000 per contract. That's five million dollars in new business, on top of the one million they saved in stamps.
The bottom line is that an identity-based solution can unlock the full potential of your existing data assets, and help you build those data assets on the best possible footing if you're just starting out. It's the cheapest way to grow your business.
Invest in identity for the long haul
You should start with a data health assessment to find out the extent to which your data is serving or hurting your business. At Neustar, we've worked with dozens of companies on their data strategies across a variety of verticals. On average, we've found that 15% of their records are duplicates and that 40-60% of their customer data can be quickly enhanced with new contact information to pursue these customers more effectively. These improvements translate to an average of $5M in marketing efficiency right off the bat.
But you need more than a one-time fix. Data never stops changing, and you need a way to stay on top of it.
In the current economic climate, every dollar counts, and investing in good data is one of the wisest investments you can make for your brand. To help you fill the gaps and capitalize on new opportunities, we just launched Fabrick. It's a revolutionary identity-based marketing ecosystem, sustained by Neustar's best-in-class solutions, and in partnership with the most reliable data providers in the business today. We're ready to put it to work for you.
Send us an email to learn more about it. We guarantee that our contact information is up-to-date.