October 15th, 2020
Universal Parks and Resorts: 2020 Genius Awards Finalist (Marketing Analytics Innovation)
This is the ninth in a series of 12 blog posts showcasing the achievements of the finalists of the 2020 ANA Genius Awards, presented by Neustar. The 2020 Genius Awards winners will be announced at the 2020 ANA Masters of Marketing Conference, held October 21-23.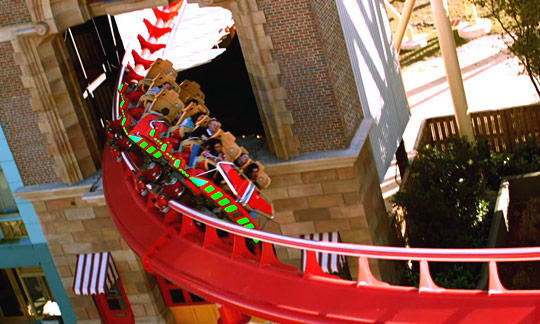 CATEGORY: MARKETING ANALYTICS INNOVATION
There's a familiar saying in marketing: "Half the money I spend on advertising is wasted; the trouble is I don't know which half." It's a statement that, at one time, felt all too familiar to Universal Parks and Resorts.
Like many companies, the brand struggled to determine the value of its marketing investment and, as a result, the organization's executives were often at a loss.
While Universal Parks and Resorts had years of historical data to turn to, they lacked a system that could provide key stakeholders with not only a real-time view of performance but a forward-looking view as well and streamline the marketing team's goals of driving value for the business.
Here's how they built a new analytics dashboard, adopted across divisions and teams, that's helped the media teams deliver a 4x higher return for the business.
The Challenge
Developing a forward-looking analytics engine that can predict future sales along with other desired brand metrics
With a mission to leverage enterprise data, advanced analytics and marketing technology to drive deeper guest engagement, deliver near-term results, and protect long term brand equity, the global marketing analytics and targeting team at Universal Parks and Resorts had historical views in place to simultaneously evaluate the consumer decision process, calculate media return on investment, and evaluate budget allocations through a 6,000 channel attribution model. And because of the highly competitive nature of the industry, this approach to measurement and optimization had been foundational to the company's success.
But due to shifting guest dynamics, competitive forces, and external shocks to the industry, looking backward was no longer meeting the company's needs.
"Like a lot of companies, we measured media for a long time, but have really always had a solution that really didn't allow us to accomplish everything that we wanted," said Chris Crayner, Chief Digital Officer, Universal Parks and Resorts.
The brand wanted a clearer picture of the specific combination of marketing factors that were influencing guest decision making and behaviors.
For years, the company tried to find a solution that would help the marketing team pinpoint these direct effects of their investments—one that would be fast enough to enable the company to keep up with these moving parts.
"We gave a challenge to the team, to really think about how we move beyond just media measurement, to actually move to marketing investment measurement," Crayner added.
The Approach
Turning traditional media measurement into a robust marketing investment program
With attribution in marketing defined as "identifying the actions that lead to desired outcomes and the subsequent assignment of a specific value to each of these events," Universal Parks and Resorts wanted to go beyond the basics.
They wanted to measure their brand's media performance at a granular level, their competition's media impact on their revenue, and the impact of pricing and offers, and messaging on their media, as well as seamlessly view results of different guest journey KPIs, including consideration and sales.
"When we work with the brand strategy team, they're of course looking at a measure of some of the more traditional brand metrics, so awareness, intent, consideration," said Leah Van Zelm, VP Analytics, Universal Parks and Resorts. "So we also knew that we had to carefully evaluate the investment in media and how it impacts those metrics as well as how those metrics impact our sales. So we were really trying to balance out the brand measures as well as performance marketing measures."
After careful consideration, Universal Parks and Resorts decided to build this new cross-channel attribution solution in-house to meet multiple objectives simultaneously, including:
Supporting senior leaders across marketing and finance by quantifying incremental marketing ROI to be evaluated against estimated ROI of other investment options
Informing the optimal budget allocation across channels, the marketing and sales funnel, and different products and audience segments, including looking not only at campaign strategies set in place by the various marketing functions but also examining when and how guests engage with the brand across the guest lifecycle and across touchpoints
Quantifying the incremental contribution of the marketing levers, such as campaign ideas, offers, messaging, and call to action, and media type on near-term performance (sales) and long-term performance (brand metrics and guest value)
Understanding and responding to external factors, such as macroeconomic indicators, category and competitive actions, and other externalities
Delivering insights in an actionable manner, with very rapid turn-around time to ensure buy-in by creating an automated and accessible solution
Universal Parks and Resorts partnered with a vendor to create the in-house solution, align on data QA/QC with channel partners, automate the output of our models and scenarios, and feed the data to a dynamic dashboard to power a visualization of the results.
The framework they produced allows the company to input weekly level competitive, environmental, and consumer insights and track them against internal sales data. All engineering within the models is automated as well as are the machine learning and report generation functions. The models have been calibrated to simulate real-world activity and are updated on a monthly cadence as the company measures the accuracy of predicted sales versus what actually happened, all to ensure a low error rate and that the model is accurately predicting the sales outcome (or desired KPI).
The Impact
Creating a measurement solution that improves performance and sustains a more agile marketing culture
By bringing all of their key marketing metrics into one single source of truth, the company now has an end-to-end measurement system to track marketing spend, impression, sales, and revenue-driven from each investment in order to understand the value of the media investment, all with a dashboard that enables internal stakeholders to get the answers they need, right at their fingertips. From the simpler "How much did we spend?" to the more complex "How much media investment is needed, given the sales forecast in the next quarter?"
All key results are displayed in the dashboard, giving the organization insights into positive ROI, and allowing marketers to make adjustments and strengthen media plans to maximize their return on an ongoing basis.
This new approach not only has allowed Universal Parks and Resorts to understand the full view of the consumer's mindset and their path to purchase, but has also provided the ability to evaluate the competition, the performance of media at a very granular level, and how variables, such as pricing and messaging, impact the effectiveness of media across KPIs like brand consideration, brand perceptions, sales, and revenue.
No longer just relying on measuring historical performance, the company can now forecast its own future sales along with other desired brand metrics as well as potential outcomes for the competition. They can now pinpoint the most optimal return on media investment, the most optimal mix of channels and campaigns, the likely outcomes from applying different media conditions, and the impact of the competition, such as when a competitor opens a new attraction.
The technology has fit well within the broader organization, providing actionable insights and empowering teams across the board to make decisions that benefit the company:
The media team and their agency partners use the insights to adjust investment levels while campaigns are still in flight, shifting spend to higher performing areas—delivering a 4x higher return for our business
The finance team has been able to understand the ROI of media and measure it against other capital investments
The strategy team has used the insights to shift funding from campaigns, geography, and tactics to increase profitability
Final Thoughts
Because the dashboard has been extremely useful in providing quick answers about spend and performance, it has not only been deployed in Orlando but also at the company's Hollywood site and soon to be launched in Japan. It may also be adopted by NBC partners and parent company Comcast.
"What we really began to see was a cultural shift...the ability to take much more high, in-depth and highly frequent looks at the business and re-optimize and replace bets for our marketing investment across the business to be able to optimize that and what it really did was not only did it allow us more flexibility but it also started to engender that sense of that agile culture that we're looking for," added Crayner.
More about the 2020 Genius Awards Finalists
Previous: McDonald's I Next: USAA