January 11th, 2021
Adversity Marketing Lessons: What You Need to Know
Brave New Worlds 2020, our inaugural two-day virtual summit held on October 15 and 16, 2020, brought together the world's most respected leaders to address some of the hardest problems in digital transformation, marketing technology, and data science. This is the sixth in a series of seven blog posts recapping highlights of this event.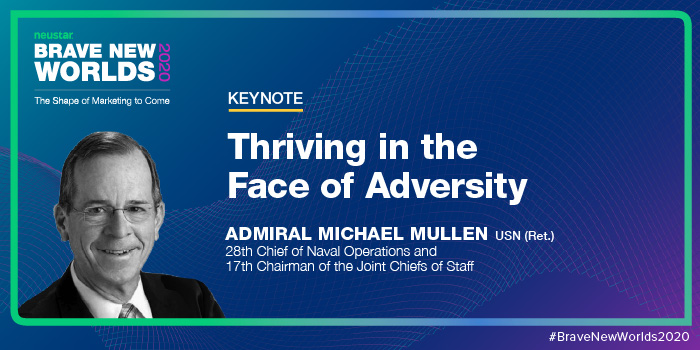 Watch the Full Session Now
Over the last 36 months, the world of business has experienced a series of accelerating shocks. Today, leaders are up against a new wave of adversity in marketing: a global pandemic, civil unrest, a host of growing privacy regulations, drastic changes in consumer preferences, a looming post-cookie and IDFA world, and a fundamental reset of how targeting and measurement have always been done.
When taken together, this ever-expanding list of challenges can feel truly overwhelming.
Admiral Michael Mullen, the 20th Chief of Naval Operations and the 17th Chairman of the Joint Chiefs of Staff under Presidents Bush and Obama, is no stranger to adversity, having led the military during a critical time of change and transition, overseeing the end of the combat mission in Iraq and the development and implementation of a new military strategy in Afghanistan.
He also advanced the rapid fielding of innovative technologies, championed emerging and enduring global partnerships, and promoted new methods of countering terrorism, all of which culminated in the successful capture of Osama bin Laden. And in another major milestone: Admiral Mullen spearheaded the elimination of "Don't Ask, Don't Tell," enabling open lesbian and gay members to serve in the military for the first time in U.S. history.
In his Brave New Worlds 2020 keynote address, "Thriving in the Face of Adversity," Admiral Mullen shared the top lessons he learned from his prolific career running some of the world's largest, most influential organizations through times of change. Here is a teaser of the four top insights he offered—catch the full speech below for more insights about how brands can address challenging circumstances and adversity in marketing, head on.
4 Effective Adversity Marketing Lessons on Thriving in the Face of Change
#1: Assume that nothing is going to stay the same
"We are living in a time where everything changes all the time," says Admiral Mullen. "So how do you get ahead of that? How do you—as a leader—how do you facilitate the kinds of changes that have to take place in order for us to thrive?"
First things first, assume change is a given. Otherwise, you risk both your team and your company getting left behind.
Big changes, such as Admiral Mullen's experience championing bringing "Don't Ask, Don't Tell," take months and even years to coordinate and execute.
"You're just not going to instinctively end up with a major change like that overnight," he adds.
These transformations take planning and keeping track of key performance indicators, like speed of change, which is a differentiator and competitive advantage, Admiral Mullen explained.
#2: Remember: Times of change require a different kind of leadership
Executives must be prepared to become change agents themselves or hire the type of change leaders who can facilitate the kinds of organizational transformations needed.
#3: Understand what's happening at the ground level
Admiral Mullen's secret to successfully advancing change has been to ensure he has an understanding of what's happening in the field. Marketers, as a corollary, need to understand what's going on in the marketplace, and be in a position—through investing in the latest technology—to best understand your customers.
And any time your organization decides there's a need to make adjustments to your plans, feedback from the field—that is, insights from customers directly—should be guiding these strategy changes.
#4: Communicate key changes—constantly
"If you are leading change, you cannot communicate it enough," advises Admiral Mullen.
As a leader, it's your job to create a plan—to articulate your vision—for where you're headed. And not only is it up to you to execute your plan and adapt it as needed, it's also essential to communicate adjustments to all your key stakeholders when you make them.
Next: Post-Cookie Marketing Success | Previous: Growth Lessons from the Home Depot