November 11th, 2014
The Right Way to Increase Customer Acquisition During the Holidays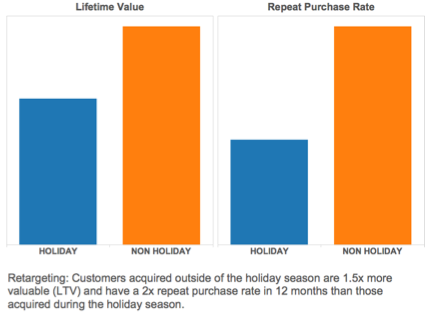 Omni-channel retailers are using big data and predictive analytics to make decisions during the holiday season that will impact long-term growth. MarketShare has enabled retailers to measure customer purchase behavior at a level of detail that is more actionable than ever before. A new set of metrics is evolving to understand and optimize programmatic marketing. Strong performance marketers have always evaluated media based on the four building blocks to increased ROI: incremental revenue, Lifetime Value (LTV), percent of revenue from new customers, and repeat purchase rates. Now that work is happening for every individual keyword, affiliate, and campaign level, retailers can target their marketing dollars toward long-term buyers rather than one-time purchasers.
Some highlights of the learnings include:
Holiday-specific customer acquisition: all brands will acquire new customers during the holiday season; however, more established luxury brands are less dependent on the peak season to acquire new customers. Their programs' percent of incremental revenue coming from new customers is strong year round.
Less established or moderately-priced retailers have more opportunity to increase customer acquisition during the holidays. Comparison Shopping Engines is a stand-out channel for how much new customer revenue goes up during the holidays. For example, 41% of Comparison Shopping's incremental revenue comes from net new customers outside of holiday, but that rate jumps to 48% during the holiday season.
Lifetime Value of customers acquired during the holidays is very different from the LTV of customers acquired during the rest of the year, and it varies by marketing channel. Overall, customers acquired during the holidays are less valuable than those acquired out of season. One finding is that customers acquired via Remarketing off-season have a 12-month repurchase rate—2.1 times that of holiday new buyers. Off-season new buyers have a Lifetime Value 1.5 times higher than holiday new buyers.