October 7th, 2020
Smithfield Foods: 2020 Genius Awards Finalist (Marketing Analytics Growth)
This is the fifth in a series of 12 blog posts showcasing the achievements of the finalists of the 2020 ANA Genius Awards, presented by Neustar. The 2020 Genius Awards winners will be announced at the 2020 ANA Masters of Marketing Conference, held October 21-23.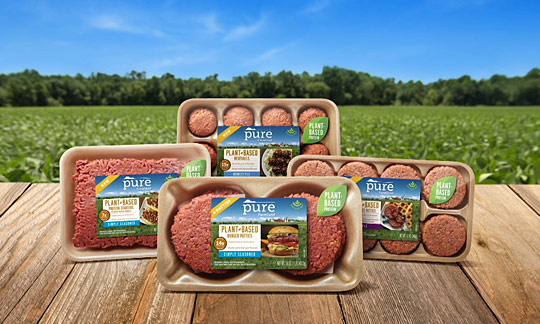 CATEGORY: MARKETING ANALYTICS GROWTH
Smithfield Foods used to be synonymous with pork—that is until it set out to launch a new plant-based meat alternative. Upon entering this highly competitive product category, the company knew they'd have to throw out their existing marketing playbook and start out with something fresh.
Here's how Smithfield Foods built on existing equity in its Pure Farmland all-natural meats brand to transition into all plant-based products, and leveraged marketing analytics along the way to grow into the top-four selling position in the category within the first year of launching.
The Challenge
Launching a new brand and achieving an ambitious goal of reaching the top-four position within its product category within a year
In a product space already crowded with first-movers like Beyond Meat and Impossible Foods, Smithfield Foods knew they would need to reposition and remarket their Pure Farmland in a way that would stand out.
"We didn't have a lot of experience with this type of consumer that was typically younger, more urban, actively looking to eat less meat," said Michael Merritt, Senior Director of Marketing, Smithfield Foods. "We needed to be nimble and very targeted with our spend."
The team conducted an audit of the consumer space and realized the landscape wasn't simply a black-and-white scenario of vegetarians or meat-eaters and that targeting non-meat-eaters along wouldn't help them realize the growth they were looking to achieve.
Through their research, they identified two potential targets of "flexitarians," that is meat-eaters who are looking to reduce their meat consumption for health and lifestyle reasons. The first group included primarily higher educated, Millennial and Gen X women, living in middle-to-upper class urban or suburban environments. The second segment included younger men who were more likely to be ethnically diverse who were looking for plant-based burgers as an opportunity to eat less meat.
"To break into this cluttered category, we would need to position Pure Farmland to appeal to both segments of flexitarians, as both an ingredient and as a protein replacement on its own," explained Merritt.
The Approach
Developing a value proposition to appeal to the two targets, launching a national campaign across media, and creating an analytics dashboard to tie in data from across the buyer journey to measure and optimize spend in real time
As a next step, Smithfield Foods developed a value proposition that would appeal to both of these two distinct customer groups: "Pure Farmlands offers a range of plant-based foods that comes from a farm, not a lab." This messaging was then reinforced by a social cause campaign—with proceeds from the product going toward the protection of farmland.
With their messaging and brand positioning finalized, Smithfield Foods and their marketing partners launched a national campaign in September 2019, across print, paid social, outdoor media, and digital display—including programmatic and AI-driven display.
To measure and optimize these ongoing efforts, Smithfield Foods created an analytics dashboard that tied together consumer interaction data across the buyer journey—including from paid media, organic social, web analytics, search volume, and sales data.
"One of the biggest challenges was that we were pulling together at least six, if not more, sources of data into the dashboard, so it's really been most challenging trying to coordinate within each of our partners, making sure we're feeding the data at the same time on a regular basis and that it's coming into the dashboard so that it can actually be processed and we can see the outcomes from that," explained Erin Thacker, Brand Manager, Smithfield Foods.
The Impact
Smithfield Foods was able to connect paid media exposure to purchase intent and local sales, enabling them to optimize both future media spend and on-the-ground promotions and reach the top-four best-seller position
By pulling together these insights, the company was able to see several immediate and longer-term outcomes throughout the course of the campaign.
They were able to detect growing consumer interest in the brand as paid media exposure led to a marked increase in branded keyword search volume, organic social mentions, and traffic to the Pure Farmland website—all signals of rising awareness.
Beyond that, they were able to uncover a detailed customer journey. By performing regression analysis on the website content consumed by customers who arrived at the brand website via paid channels versus organic pathways, they were able to measure that paid visitors had higher engagement with the brand and its products while organic traffic was more likely to engage with the brand by searching for recipes as a signal of intent.
The company monitored growth on a market-by-market basis, cross-referencing state and city-level sales data against website traffic and search volume. They were able to pair this digital engagement with local sales, which in turn helped them develop in-person promotional shopper strategies more efficiently.
Within the first six months of launch, more than two million unique visitors visited the Pure Farmland website and within eight months of launch Smithfield Foods sold more than 2.55 million pounds of Pure Farmland products, reaching 30% of the total available market, helping the brand hit its goal of being the fourth best-selling plant-based protein in the category.
"The top insight from our program is that the multichannel media mix that we had set forth in the beginning of this launch worked," said Kim Moor, Account Director, Elevation Advertising. "We utilized a multi-touch attribution model that provided an integrated approach that was key to the brand's success, especially given the disconnected buyer journey for this product. Just from an overall perspective, we looked at each stage of the buyer journey and determined specific measures for success."
"The real value of what we were getting from a data perspective was the ability to see on the fly...exactly who was interacting with our many different ads, our social, etc. and then be able to adjust all of that as we went," added Aaron Dotson, Founder and Executive Creative Director, Elevation Advertising.
Final Thoughts
With the company currently the fourth-bestselling plant-based protein in the market, they're on track to overtake third place before the end of 2020.
"These tools have helped us immensely, particularly with our targeting," said Merritt. "We're able to drive back both to the bottom line as well as repurpose those dollars to advertising and promotional strategy to specific markets or specific consumers, depending on the data we're getting back."
More about the 2020 Genius Awards Finalists
Previous: Checkers & Rally's I Next: Zillow