December 7th, 2021
New MMA Research Reveals the True State of Multi-Touch Attribution (MTA)
Over 80% of marketers use or are planning to use multi-touch attribution (MTA), yet only 40% have a formalized MTA solution in place, according to recently released report from the MMA Global* marketing trade association. Why is this the case, and what's holding back more widespread and formal implementation of MTA among marketers?
These are the topics of groundbreaking new research published in MMA's new report "MTA Is Dead, Long Live MTA."
The new research-based report not only identifies the key reasons why multi-touch attribution remains a challenge for many marketing organizations; it also offers a clear vision of a path forward on what marketers can leverage to reap the deepest benefits of MTA.
The study, which surveyed more than 250 marketers across North America, found that the challenges brands face on their MTA journey can be grouped into three key areas: data, methodology/interoperability, and organizational buy-in. The chart below from the MMA report highlights the relative importance of these three areas, and how they intersect based on the percentage of study respondents indicating where they experienced issues.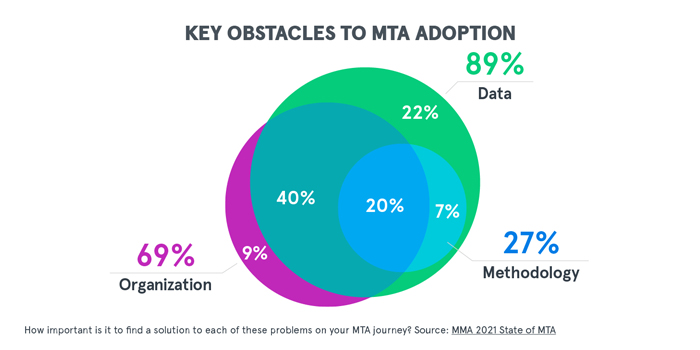 Top 3 hurdles
1. Data stands above all other challenges
MMA research indicates that the top obstacle, and the one that has the power to unlock most other issues, revolves around data.
The 'garbage in, garbage out' idiom is applicable here. According to the MMA study, 89% of today's marketers report issues with the data they're feeding into their MTA algorithms.
What sorts of issues? Access, for one: 50% of the study's respondents say that their MTA program is hindered by new privacy restrictions and poor access to data from walled gardens. Data linkage is another important issue: 40% of the research study's participants say they're having trouble connecting data across devices and platforms, or linking it to their CRM system, because their martech stack has too many leaky buckets. Ultimately, 56% don't trust the quality of the data that supports their MTA models, the report notes.
Fixing data issues thus should be top priority for anyone looking to develop MTA capabilities. Solving these data issues also affords many benefits beyond that of MTA, such as improved data governance, deduplication, and onboarding.
2. Interoperability is key to success
Discrepancies in marketing methodologies and interoperability pose the second key challenge to a successful MTA implementation, according to the report. 
MMA research indicates that among those organizations that leverage MTA, 63% also use marketing mix modeling (MMA), and 59% use A/B tests as part of their arsenal of methodologies. Unfortunately, these methodologies historically have used disparate approaches in measuring marketing performance. Different data inputs, different metrics of measurement, and different teams leading the charge on each methodology frequently yielded results that ended up being at odds with one another, the study points out.
3. Organizational buy-in is a necessity
The marketers interviewed for the new MMA report have been on their MTA journey for years now, and they're still working hard on all fronts to keep up with new developments: new channels, new consumer behaviors, changes to the technical ecosystem, and evolving privacy regulations, to name a few.
They also need to constantly prove the value of MTA to the C-suite. "MTA isn't for the faint of heart," says Eddie Drake, SVP Marketing Data Strategy & Attribution at Bank of America, adding that it takes real commitment to develop what he calls a "symbiotic relationship" between strategic and tactical roles at the company.
A successful MTA deployment requires strong coordination across all marketing branches within a company, as well as the involvement of many departments outside of marketing (like IT, finance, or legal) and that of dozens of outside partners (like agencies, or data and tech partners). Oftentimes, says the report, siloed disciplines and limited leadership support have played a role in MTA not advancing to great effect within an organization.
New wind in MTA's sails
The marketers interviewed for the new MMA research report see great promise for MTA's advance in three key areas: television, privacy-preserving techniques, and unified identity.
Television has traditionally been a blind spot for MTA. TV's emergence as a top marketing channel in the 1950s inspired the birth of MMM, and the two have evolved hand in hand over the past decades. But the absence of person-level measurement made it a poor fit for MTA. Not anymore. TV is fast becoming an addressable channel—even on linear television. It's now possible for brands to measure ad impressions at the person-level and account for TV activity in their MTA models. With CTV and streaming platforms on the rise, the picture is only going to improve in the future.
Walled gardens have also been a blind spot for MTA. But recent changes to privacy regulations have fortified their walls, and they're now jealously guarding their users' data (and making their in-house measurement solutions more valuable in the process). Thankfully, new advances in privacy-preserving techniques (like cohorts and differential privacy) are allowing brands to work with walled gardens to extract valuable user-level data without compromising anyone's privacy.
Finally, identity is fast becoming a unifying framework for marketers looking to strengthen their first-party data, eliminate data silos, and streamline how they activate their campaigns. It's also allowing them to finally bring MTA and MMM into a well-balanced unified analytics system, where short-term tactics and long-term strategies complement one another.
"We went through a lengthy process to select our MTA vendor," says Hardy Faison, Global Media Operations Team Associate at General Motors, in one of the study's interviews. "We wanted to make sure we selected a vendor that was a leader in identity, and that understood what it took to deliver a truly unified solution. We didn't want to struggle anymore with MMM saying one thing and MTA saying something different."
This is the right time to begin your MTA journey
MTA success is not something that happens overnight, the study points out. Overcoming the aforementioned challenges takes time and thoughtful planning, Moreover, and far from spelling the demise of multi-touch attribution, the ongoing deprecation of third-party cookies and device IDs is accelerating the industry's transition toward a more complete, more reliable, and more sustainable form of MTA. Now is the time to jump in.
Learn about the true state of MTA and how to make it work for you. Download the MMA report "MTA Is Dead, Long Live MTA." 
* MMA had previously been called the Mobile Marketing Association, but today is a broader organization comprising mostly marketers on its board