December 7th, 2020
3 Things You Need to Know About the Future of Identity
Brave New Worlds 2020, our inaugural two-day virtual summit held on October 15 and 16, 2020, brought together the world's most respected leaders to address some of the hardest problems in digital transformation, marketing technology, and data science. This is the second in a series of seven blog posts recapping highlights of this event.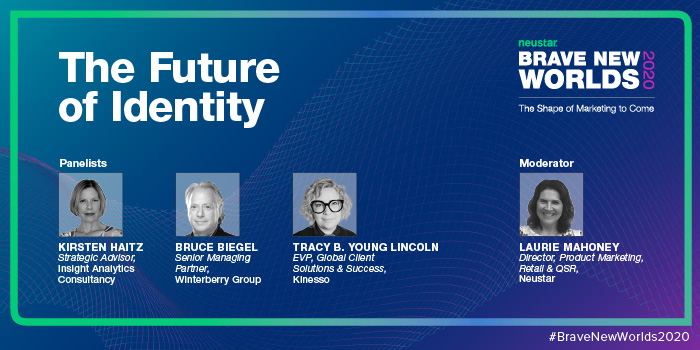 Watch the full "The Future of Identity" session NOW
If you work in marketing, not a day goes by that you're not hearing about identity. That's great because the future of marketing depends on it. But it's also confusing since there is still much room for interpretation about what it is exactly, how it should be used, and how to make it happen.
This past October, we had the privilege of hearing thoughts on the future of identity from three industry experts at the Brave New World conference: Bruce Biegel brought a wide-angle lens to the discussion, having studied the space for years at Winterberry Group; Kirsten Haitz shared insights from her experience as a strategic advisor to some of the most customer-centric retail brands in the world (like Walmart, Williams-Sonoma, Gap, and Levi Strauss); and Tracy YoungLincoln from Kinesso/IPG Mediabrands shared her wisdom from the agency side of the industry.
The timeliness of this panel discussion cannot be overstated. Third-party cookies and other identifiers are going away at a time when demand for precise measurement and attribution is going up. Privacy regulations around the world are clamping down on what marketers can do with user-level data, just when expectations for a smooth and personalized customer experience are at an all-time high.
I gave the panelists a chance to share their views on the future of identity not just as a concept on a whiteboard, but as a key enabler for a variety of business-critical use cases across verticals (like retail, finance, and TV). Theory together with practice!
Judging from the number of live questions during the session, it's a topic that resonates with many of you today. We recorded this fascinating session so that you may refer to it regularly as you're plotting your way through the maze. What can you expect to learn from this recording?
How to Prepare for the Future of Identity
1. In the future, identity will be front and center
As Bruce put it, "the industry is coalescing around identity as a core to perform marketing and personalization" in the future. "The last generation of the internet was about the buyer, and this is now about the consumer and what they need." But how do we get there? The panelists identified four different approaches to address data-driven marketing in a post-cookie world. Can you guess what those are?
2. Identity will reshape how companies work
Kirsten noted that "first-party data is scaling in size, speed and accuracy to handle the proliferation of devices and the frequency of changes in the data," making it "much more complex to actually stitch it all together." Organizations that used to work in silos need to rethink how they're structured and develop "the value exchange within their walls," Tracy explained. How can identity resolution vendors help?
3. Identity will reshape how companies work with one another
For Tracy, clean rooms and second-party marketplaces that treat customer data "in a respectful and privacy-compliant manner" will usher in great innovation next year. "Trusted partners will be essential to optimize targeting, but even more so for measurement," added Kirsten.
That's just scratching the surface of what our panelists discussed during this workshop. Watch the full video to get their thoughts on how to get started with identity resolution; how to gauge the value of your identity investments along the way; the current rate of identity adoption across verticals; the evolving role of agencies and publishers; and so much more.
The future of identity is here. Dive in.
Previous: The Future of Marketing | Next: The CDP Marketing Evolution