June 22nd, 2020
Find Out Where You Stand in 'The Great Marketing Debate'
This is a guest blog post from Greg Stuart, CEO of the Mobile Marketing Association (MMA).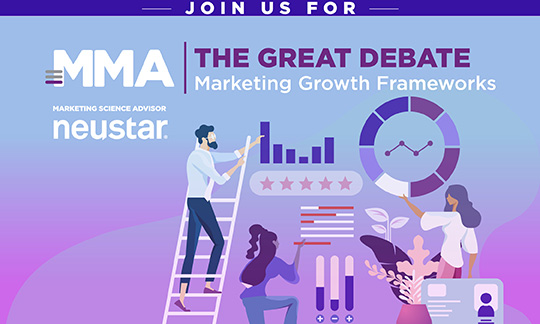 With everything going on in the world today, there has never been a better time for marketers to take a step back and really consider the strength of their growth strategy.

That's why I'm so excited to dive into the first of our new debate series from Neustar and MMA Global. Starting June 24, The Great Marketing Growth Debate will launch, featuring the brilliant marketing minds who authored the four most powerful strategic marketing growth frameworks. They will share their theories and beliefs, backed by case studies and anecdotes. Marketers will then weigh the merits — and disadvantages — of each one.

Register to join one or all sessions and learn from 120+ years worth of marketing-growth thinking.

Get your notebooks and tablets ready! These webinars will explore, and pressure-test, foundational marketing growth strategies - the kind of juicy material you'll want to refer back to again and again. We'll channel marketing hero John Wanamaker, in search of answers to questions like:
Should brands go broad or focus on existing consumers?
What are the brand risks of a short-term focus?
Should media plans aim for effectiveness or reach?
Are brand loyalty programs a waste of time and money?

This panel of marketing thought leaders will help you understand each strategic approach and help you decide what's best for your business:
Dr. Peter Fader, Phd, Wharton School of the University of Pennsylvania
Professor of Marketing and Co-Director of the Wharton Customer Analytics Initiative
Author of Customer Centricity: Focus on the Right Customers for Strategic Advantage and Coauthor of The Customer Centricity Playbook
Dr. Dominique Hanssens, Phd, UCLA Anderson Graduate School of Management
Distinguished Research Professor of Marketing and Executive Director of the Marketing Science Institute in Cambridge, Massachusetts
Author of Long-Term Impact of Marketing: A Compendium and several award-winning research papers
Dr. Byron Sharp, Phd, University of South Australia
Professor of Marketing, Board Member at the Wharton SEI Center's Future of Advertising project, and Director of the Ehrenberg-Bass Institute
Author of How Brands Grow: What Marketers Don't Know voted one of the most influential marketing books of the past decade by Warc & marketing book of the year by AdAge
Joel Rubinson, MBA, President Rubinson Partners, Inc
Faculty at NYU Stern School of Business and former Chief Research Officer at the Advertising Research Foundation and Marketing Attribution expert
Published author of numerous papers in professional journals and white papers regarding brand growth and marketing effectiveness

Then, We Debate...
Following each of the presentations, we want to build on what will surely be fascinating and important discussions. So after, we will convene groups of marketers, analytics pros, and CMOs to debate the benefits and shortcomings of each framework. Let's work together to determine which model works best for you.
I am grateful to our marketing science advisor partners at Neustar for providing their insight, knowledge and expertise to this Great Marketing Growth Debate Series. Neustar brings the kind of rigor and authority to these debates that will help us put plan into action once we reach our conclusions over the course of the series.
This gathering of minds has never been assembled in one series before. Those who participate will return to their job armed with sharpened tools, keener eyesight, and heightened instincts for growing their business.
Today, the demand for marketers to create growth is greater than ever, and they must do so with urgency. Marketers who register to join one or all sessions, starting June 24th will be better equipped to survive and thrive during and after the COVID-19 pandemic. And they'll learn fundamentals of business marketing growth that will serve them for decades to come.