December 9th, 2020
The CDP Marketing Evolution: 4 Benefits You Need to Know About
Brave New Worlds 2020, our inaugural two-day virtual summit held on October 15 and 16, 2020, brought together the world's most respected leaders to address some of the hardest problems in digital transformation, marketing technology, and data science. This is the third in a series of seven blog posts recapping highlights of this event.
Never has there been a greater urgency to improve customer experiences and extend customer lifetime value. And that's precisely why marketers are increasingly turning to customer data platforms (CDPs) to operationalize their first-party data, gain a better understanding of their customers, and enable more effective decision making and marketing—just a few of the many benefits of CDPs.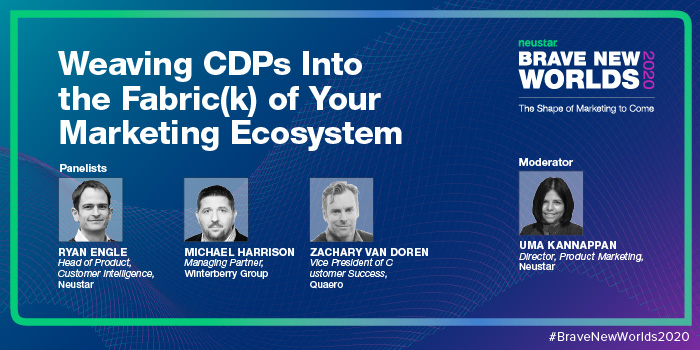 Watch the Full Session Now
4 Reasons Your Marketing Ecosystem Needs a CDP Powered by Identity Resolution
In a relatively new category that's just a few years old, there's no one clear standard for what CDPs are and the exact features they offer, meaning marketers aren't necessarily comparing apples to apples—more like apples to bananas. For that reason, not all early adopters have achieved the results they'd like to see and some have questioned whether CDPs are worth the investment.
But experts Ryan Engle, head of product, Customer Intelligence, at Neustar; Zachary Van Doren, vice president of customer success at Quaero; and Michael Harrison, managing partner at Winterberry Group agree: The right CDP, powered by identity resolution, is definitely worth it.
And these industry leaders shared with me their top reasons why at Neustar's Brave New Worlds 2020 workshop I moderated, "Weaving CDPs Into the Fabric(k) of Your Marketing Ecosystem."
1. Get peace of mind about data accuracy
The real promise of a CDP lies within the system's data integration and data management capabilities, features that can provide the rest of your martech and adtech ecosystem with clean and accurate data to put into action for marketing activation, explained Harrison of Winterberry Group.
2. Establish a 360-degree view of the customer to better understand and predict customer behavior and improve customer lifetime value
"Customer data has always been a strategic asset that companies have managed and nurtured over time," said Engle of Neustar, adding that it's all the more important these days in the context of the disappearance of third-party cookies. "First-party data is even more valuable than it ever has been."
That's because customer data directly impacts the marketing investment decisions brands make.
Given how critical customer data is to marketing success, CDPs that offer identity resolution are a fundamental investment companies need to make to get the most out of their customer data, Engle explained. Identity resolution is key to understanding who you're talking to and what they have the potential to contribute to your business over their lifetime.
Without identity resolution, brands run the risk of having multiple customer profiles and fragmented identities for the same individuals, without the ability to stitch them together. Companies that understand which identity fragments correspond to one another, on the other hand, can establish a 360-degree customer view.
3. Personalize interactions, at scale and with confidence
Once you really know who your customers are and where they are engaging, it's a whole lot easier to get much more effective at marketing to them—reaching them with the right messages, in the right channels at the right time. And, that helps save on marketing waste by minimizing ineffective targeting, channel selection, and messaging.
When marketers achieve personalization "in a way that's very smart, that's at scale, that could derive tens of millions of dollars in savings," explained Van Doren of Quaero.
And once you get personalization right via one channel, you can take things to the next level with cross-channel optimization, he added.
4. Achieve true measurement, attribution, and optimization
"It's nearly impossible to get full true measurement or attribution" without a CDP powered by identity resolution, said Harrison. Only then can marketers effectively measure their activities, calculate the real ROI of their efforts, and, ultimately, optimize campaign performance.

Previous: The Future of Identity | Next: 5 Marketing Strategies to Know When Everything Changes