October 15th, 2020
USAA: 2020 Genius Awards Finalist (Marketing Analytics Storytelling)
This is the 11th in a series of 12 blog posts showcasing the achievements of the finalists of the 2020 ANA Genius Awards, presented by Neustar. The 2020 Genius Awards winners will be announced at the 2020 ANA Masters of Marketing Conference, held October 21-23.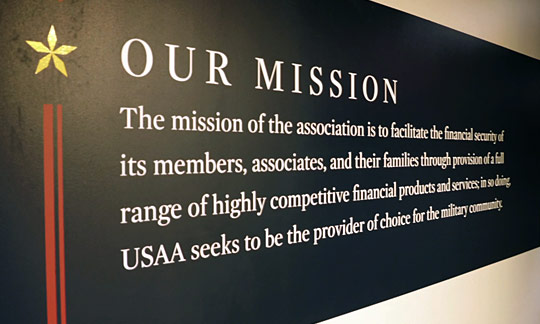 CATEGORY: MARKETING ANALYTICS STORYTELLING
Slowed growth. Engagement that tapers off. Any marketer knows these are warning signs. But it's not just any marketer or just any surface-level quick fix that can turn things around.
That's what the marketing team at USAA realized when faced with these challenges. And that's why the organization went first to the root of the problem—to better understand the market and the company's current and prospective members. And only then did it set out to overhaul the positioning for its 100-year-old brand, with data guiding the team at every decision point along the way.
Here's how the financial services company repositioned its brand to appeal to the diverse population it serves and built a new analytical framework to improve both linear and digital conversion rates.
The Challenge
Developing a brand position that differentiates USAA's products and services within the diverse, multigenerational military community audience they serve
For years, USAA had weighed how to best market the company's many different capabilities: Should it be seen as a house of brands or branded house? While their old brand platform positioned the company as a house of brands, USAA saw the opportunity to build a new platform to transform perceptions and shift toward a unified branded house.
"We were definitely missing a unified platform that can allow for all of our lines of businesses—regardless of who we're talking to, which product line—a way to communicate and still amplify the overarching USAA brand," said Mayra Rivera, Chief Marketing Officer, USAA. "That's really what the objective of our effort was—to create a new way to communicate our value prop that would be relevant to all of the different audiences, because we serve a very diverse population that have very different needs."
Specifically, they wanted to bridge an age gap and appeal to both younger and older military generations, particularly since they learned that competing brands had earned reputations as being more dedicated to younger audiences for short-term transactions.
The Approach
Building a new brand platform, informed and driven by data, scalable across all communications with an analytical framework that tells an integrated performance story
To figure out how to best bridge that gap and unify their brand messaging, USAA relied on research to assess the current state, gain a greater understanding of their target audience, determine which creative messaging they should use to launch their new campaign, and how to execute the launch in a data-driven way.
USAA conducted a series of focus groups with members, military prospects, and associate prospects representing all generations and military ranks. They also ran a prospect funnel survey, receiving a total of 1,017 responses from USAA military and associate prospects, including young Millennials, older Millennials, Gen X members, and Baby Boomers.
From this market research, they identified the following opportunities for growth:
Educate prospects about eligibility requirements: Soon-to-separating serving military believed they would no longer be eligible for their USAA membership

Provide clarity on USAA service offerings: The brand was either known for its banking services OR insurance offerings, not both

Strengthen the brand's association with "service": USAA needed to translate the services they offered in tangible and unique ways, highlighting the company's true understanding of the military community and their needs
Next, USAA tested three potential creative concepts over in-person and online focus groups, live chats, and link testing before ultimately landing on a winning concept: "Made For."
In November 2019, they launched the "Made for" campaign with USAA's sponsorship of the NFL as the official "Salute to Service" partner, with a focus on Veteran's Day weekend, a showcase for the brand within NFL, NCAA Football, and NASCAR events. This included on-air, digital and local activations, culminating with ESPN's "Monday Night Football" game.
To ensure a range of storytelling opportunities, they paired this broad reach with the following targeted media tactics:
Addressable TV to military households

Customized, currently-serving and veteran messages in digital channels, from YouTube and Hulu to programmatic display and social platforms, including Instagram, Snapchat, and Twitch

Content partnerships with Amazon and History Channel designed to drive awareness
USAA selected these partnerships based on each platform's military targeting capabilities and proven historical performance.
At the same time, USAA and its agency Publicis formed a workgroup, with representation from across 14 teams, to build a measurement framework. This was the first time a multidisciplinary, data-focused workgroup of this magnitude had been created at USAA, as in the past, data and analytics teams had been in silos.
The first task? To align on the campaign outcomes the creative and brand teams wanted to measure, both from a short-term and long-term perspective. They determined these would span:
Brand measurement: Indicators of the impact on awareness of USAA and its products and services
Media performance: To optimize the campaign by channel

Business performance: Web visits, quotes, applications, and sales to gauge overall ROI

Other miscellaneous metrics: Brand reputation, social sentiment, and voice of the member
The Impact
Improvements across memorability and conversion rates
While still in the launch phase, initial results indicate the "Made For" campaign has had an impact on military prospect test scores (highest to date), memorability (rates ahead of industry average), and linear and digital conversion rates (increasing on a monthly basis) and, overall, these indicate that USAA is on track to solve its initial challenge of slowed growth and decreased engagement among prospective customers.
Thanks to the "Made For" measurement framework, USAA can tell the holistic success story of its campaign, pinpointing drivers of performance and optimization recommendations.
Final Thoughts
"We realized that this multidisciplinary working group that we constructed could be leveraged for other efforts throughout the organization," explained Rekiatu Buechner, Program Manager, USAA. "In addition to that, we also constructed this new analytical framework that could also be leveraged."
Both resources have become evergreen capabilities for marketing—ones that are being scaled within the organization to address other enterprise efforts, including responding to COVID-19 impacts to USAA.
More about the 2020 Genius Awards Finalists
Previous: Universal Parks and Resorts I Next: Univision