October 23rd, 2020
Announcing the 2020 ANA Genius Awards Winners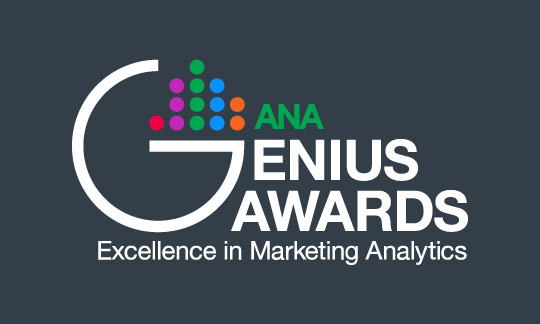 Now in its eighth year, the ANA Genius Awards, presented by Neustar awards the best and brightest marketers for their demonstrable use of advanced analytics to drive better business outcomes.
This year we saw a record number of entrants—including brands, social media platforms, and nonprofits--from the more recently-launched to the timeless, century-old leaders in their categories. Each of the winners shares in a $100,000 prize pool, to be donated to the charity of their choice.
"The impressive diversity of industries represented among all the entrants shows how widely analytics is being adopted across the marketing ecosystem and how critical it is now, more than ever, for organizations to produce measurable business outcomes that justify and optimize their marketing investments," says Neustar President, Analytics Solutions, and 2020 Genius Awards judge, Ted Prince.
Selected by our expert panel of judges—including industry CMOs, marketing scientists, and other notable marketers and academics from IBM, Google, Sirius XM & Pandora, Facebook, and more—these companies have leveraged analytical thinking to fuel bottom-line revenue growth. All while managing to address some of the greatest challenges keeping advertisers and marketing executives up at night.
"Each year I've had the privilege to see improvement in the submissions," says longtime Genius Awards judge, Gayle Fuguitt, former Chief of Customer Insight and Innovation at Foursquare, CEO at ARF, and VP, Global Consumer Insights at General Mills. "This year, especially, there were entries that showed new levels of innovation and enterprise-wide alignment and adoption for faster, better business decisions. Even more impressive was the sponsorship at senior levels in so many more companies, all the way to the C-suite, signaling strong support for easy-to-navigate dashboards and data platforms to drive real-time decision-making."
It's been a year of change, a year of challenges, a year where we look forward to moments to celebrate our wins—big and small. And as a reminder, watch this recap of all the 2020 finalists.
So without further ado, I'm thrilled to share the 2020 ANA Genius Awards winners, following today's announcement at the 2020 ANA Masters of Marketing Conference. These exceptional, data-driven marketers have been recognized in four awards categories: marketing analytics adoption, growth, innovation, and storytelling.
Introducing the winners of the 2020 ANA Genius Awards, presented by Neustar:
Winner for Marketing Analytics Adoption: Sam's Club
If marketers could, they'd never waste another advertising dollar paying to reach individuals who simply aren't likely to pay attention or convert.
Genius Awards winner Sam's Club figured out how to do just that. By building out a new suite of marketing technology powered by machine learning, the leading membership discount retailer managed to shift its funding away from "lost causes" and other low priority segments and redirect its budget toward "persuadables," a key segment that's likely to be influenced by marketing.
In doing so, the brand has succeeded in achieving an impressive more than 100% lift in return on ad spend (ROAS) compared with randomized targeting.
Sam's Club will donate their portion of the $100,000 prize pool to RAICES, which helps free immigrant and refugee families, secure the release of thousands of people and ensure that each person receives quality legal and social services.​
Winner for Marketing Analytics Growth: Zillow
It's not every brand that can launch a new billion-dollar business within a few years. But that's what Genius Awards winner Zillow has done.
By shifting from a product mindset, focused on housing data, to a customer mindset, focused on home buyers and sellers and their biggest challenges, the brand came up with the idea for Zillow Offers, a program that allows customers to sell their homes directly to Zillow rather than to individual buyers.
Conducting in-depth research and analysis, the real estate giant discovered that the biggest pain points of the home buying and selling process boil down to stress and timing.
By solving for that, the Zillow Offers program has exceeded every target the company set—generating $1.4 billion in revenue in 2019, above the $52 million the program generated in 2018, and exceeding the company's overall 2018 revenue benchmarks.
Zillow has chosen as their charity U.S. VETS, the nation's largest veteran services nonprofit, providing housing, counseling, career services, and comprehensive support to 5,500 veterans and their families each night.​
Winner for Marketing Analytics Innovation: Fossil Group
The internet is a veritable goldmine of customer data, but translating those insights into product innovation is something few brands fail to achieve.
When faced with an increase in competition due to a growth in smartwatches, Fossil Group, a global company specializing in lifestyle accessories including watches, wearables, handbags, small leather goods, and jewelry, managed to adapt its strategy by adopting machine learning to drive innovation and growth.
The company scoured customer reviews from the company's website, community forums, and eCommerce websites like Macys.com and Amazon.com, then trained their database to generate product predictions to pinpoint changes in consumer trends by demographics, product price, and consumer sentiment. They paired these efforts with surveys of the company's 18,000-member fashion influencer community and in-market tests and succeeded at cutting new product development time in half, saving more than $8.2 million in launch costs, and generating a 10% lift in revenue.
Fossil Group is donating to Operation Kindness, North Texas' leading no-kill animal shelter, providing assistance to animals in need of medical care, companionship, and most of all, a home. ​
Winner for Marketing Analytics Storytelling: Longwood Gardens
Direct mail is out. Social media is in. It's easy to let personal biases and beliefs like these influence marketing decisions—to the detriment of business growth.
When Longwood Gardens set out to launch a new membership campaign, the marketing team decided to throw these kinds of harmful assumptions out for good, and let thorough testing drive their strategy. Over the course of two years of testing the effectiveness of direct mail, digital, and social outreach, the non-profit organization located on over 1,100 acres in the Brandywine Valley in southeastern Pennsylvania, was able to execute a more effective, targeted media spend and increase its member households by 18%, from 59,700 to 70,800.
And for their charitable gift, Longwood Gardens has chosen to donate their portion of the winners prize to the American Public Gardens Association, which champions and advances public gardens as leaders, advocates, and innovators in the conservation and appreciation of plants.​
Congratulations to all of this year's amazing ANA Genius Awards winners, you've inspired us to find new ways to embrace marketing analytics excellence.
Read more about the 2020 Genius Awards winners here