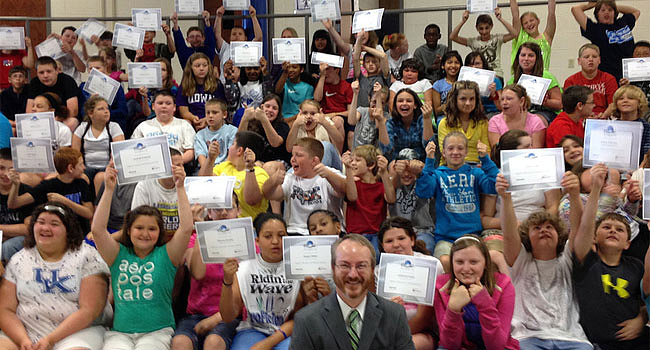 My Connected World
My Connected World is an interactive, web-based course that in-school digital literacy and Science Technology Engineering Math (STEM) program designed for 6th – 9th graders. The program is offered free of charge to every school district in Virginia, Kentucky and California – states that Neustar calls home. This program, a partnership between Neustar and EverFi, covers key digital literacy subjects, including how a computer works, the benefits and pitfalls of social networking, the dangers of texting while driving, and how to pursue careers in technology. More than 180,000 students have completed the program and are certified. Neustar has supported the program since 2013 and has reached 1,600 classrooms.
---
Green Initiatives
Neustar searches for simple and innovative programs that allow us to create a sustainable society and corporation. Conservation and recycling efforts can be seen at all of our offices around the world, and our Headquarters building received LEED certification by the U.S. Green Building Council in recognition of the company's commitment to managing its energy consumption, water efficiency and material use during the design and construction process. Our Green Data Center Strategy includes many eco-friendly systems, such as airflow controls and power usage efficiencies that help lower costs. Additionally, Neustar has been chosen by DotGreen Registry Corporation, a nonprofit public benefit corporation, to provide the registry and DNS (Domain Name System) services required to support the .green global Top-Level Domain (TLD).
Year Up
Neustar participates in Year Up, an intensive training program that provides low-income young adults, ages 18-24, with a combination of hands-on skill development, college credits, and corporate internships. Since we became involved with Year Up, we've had 26 interns, eight of which have been hired full-time.

---
Employee Involvement & Volunteerism
Our employees have a strong tradition of community involvement, and Neustar supports these efforts through a variety of programs.
+15,000
Volunteer Time Off Program
Allows all employees to use up to eight hours of paid time off each year for volunteer services – a potential donation of more than 10,000 hours annually to our communities.
$250
Matching Gifts Program
Supports employees' personal giving by matching monetary donations dollar for dollar up to $250 per year to community organizations.
Some of our events and fundraising efforts have included the Best Buddy Century Ride in both California and the DC area, Alzheimer's Association Walk to End Alzheimer's, Susan G. Komen Race for the Cure, the Avon Walk for the Cure, beach clean-ups, and more. Employees also organize in-kind drives to collect food, school supplies, toys, coats, as well as assemble care packages for the troops and for disaster relief.